Easy Ticketmanagement for Softwaremanufactorer & IT consulter
Tamarello Ticketsystem for IT Companies & Software Vendors
Improve your responsiveness on-the-go with Tamarello – the helpdesk IT ticketing system for IT companies!
Are you struggling to keep up with the increasing number of customer service requests in your IT company? Tamarello, the IT helpdesk ticketing system, can help you manage all service requests efficiently and provide excellent customer support, even when you're on the go.
With Tamarello, you can centrally manage all service requests and enable effective collaboration between your support team and customers. Our ticketing solution provides a clear overview of all service operations, ensuring that you always have complete control.
Choose Tamarello to streamline your IT support services and improve customer satisfaction.
Tamarello is designed to optimize and streamline your support tickets. It knows all your customers, their contracts, and current support cases, allowing you to stay up-to-date with ongoing operations. Predefined work packages help you manage support requests effectively, whether you're working in-house or on the go.
Our flexible system allows you to work from anywhere, using web or tablet. This ensures fast response times and provides a satisfying customer experience. With the customer portal, your customers can also create and view their tickets, and the direct integration ensures that your support team always has the necessary information to respond promptly.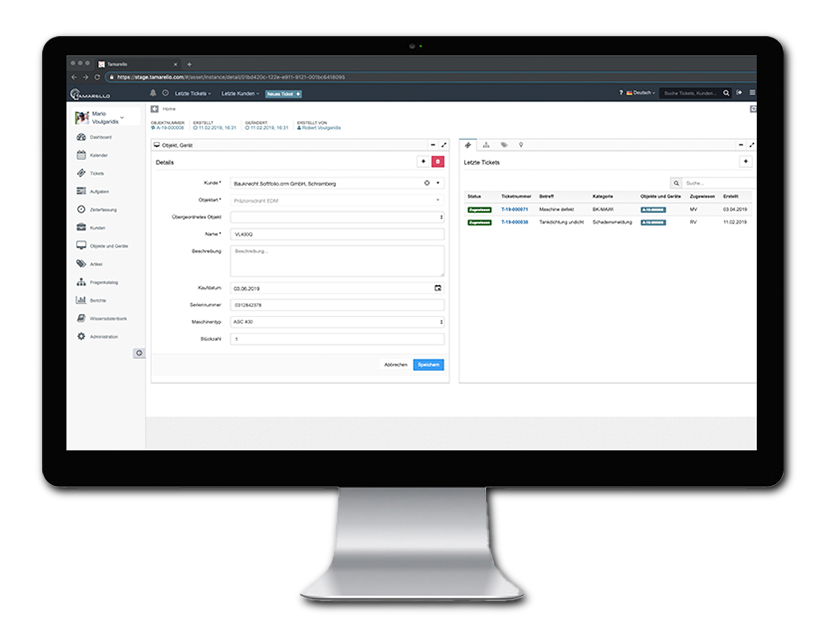 Assetmanagement:
Keep tracking your servicetickets in relationship to the affecting Assets. Define free characteristics to each assetgroup, so you have alle important informations of the asset in view.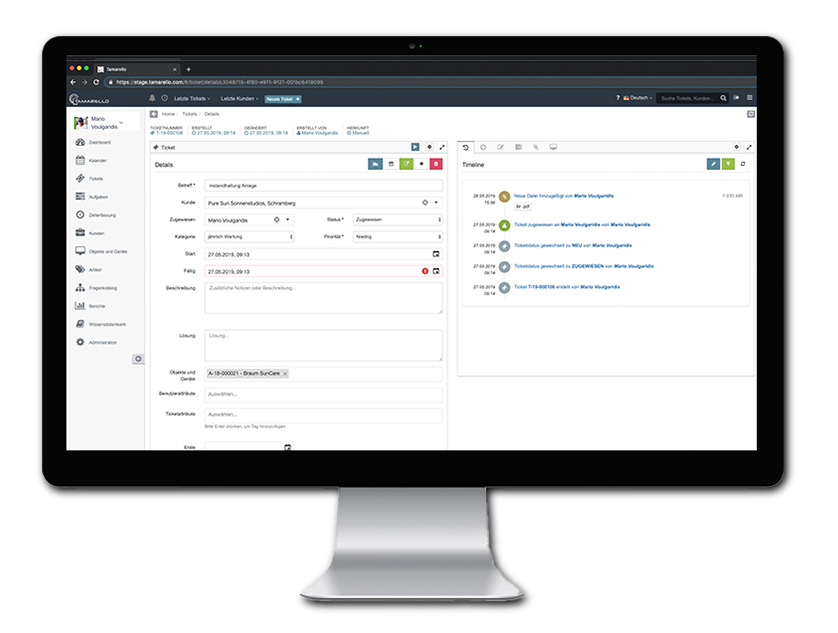 Ticketdetailoverview:
All informations to tickets on one side.
The timeline shows you selective informations about the changes.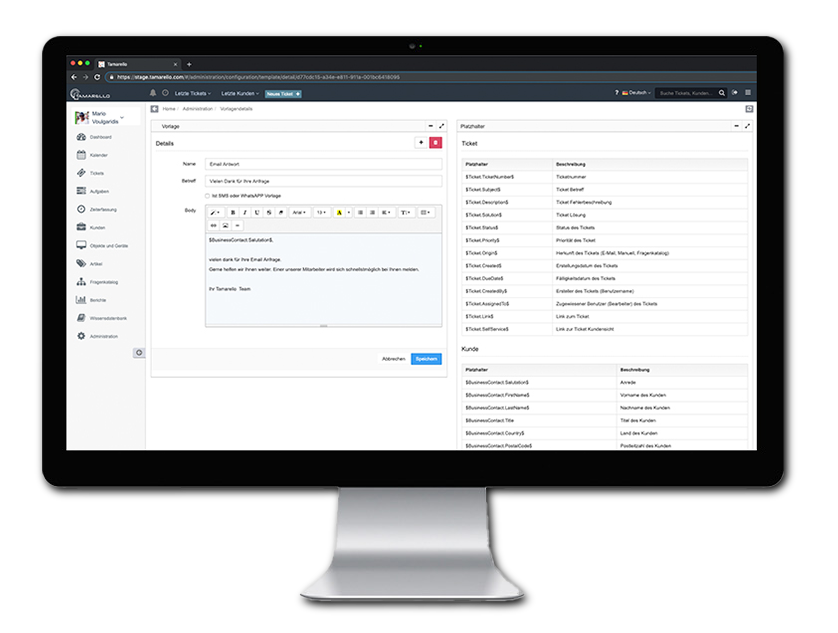 E-Mail messaging system:
With the E-Mail messaging system you will automaticly inform your customer or your employees about the changes to a ticket.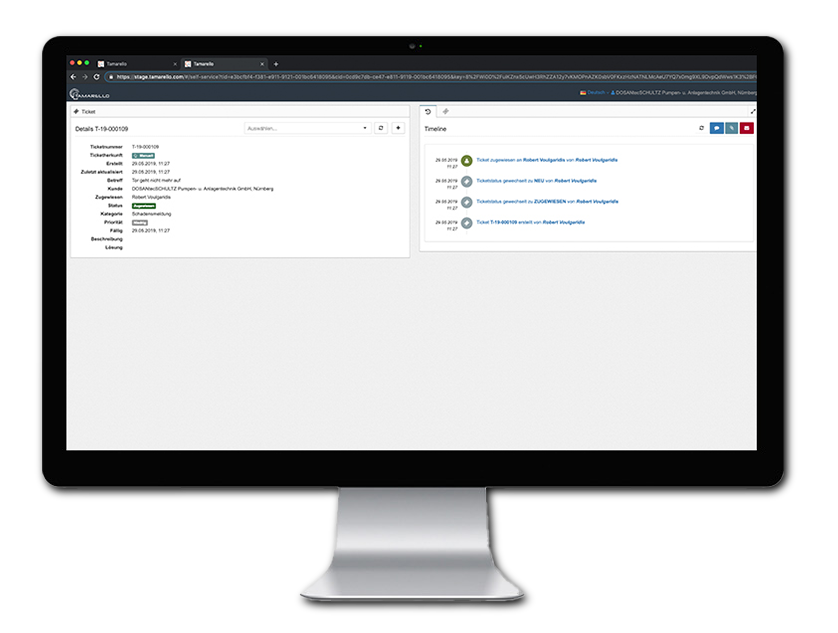 Kundenportal:
Das Kundenportal dient dem Kunden zur Selbstauskunft.
24/7 Erreichbarkeit und Interaktion.
Overview
Overview
All activ proccesses in overview filtered as you wanted.
Assetmanagement
Assetmanagement
Transacting repairs and retourns of assets.
Installed base
Installed base
Manage delivered services.
Dokumentation
Dokumentation
All relevant informationen in one view. Mails, notes and activities to the ticket relevanten chronologically sorted.
Automatic
Automatic
Create and link E-Mails automatically to tickets.
Customerservice24/7
Customerservice24/7
24/7 access to the tickets with the customerportal.
Escalations
Escalations
Automatic information via E-Mail
Workflows
Workflows
Predefined work packages and checklists optimize your work.
History
History
Complete dokumentation of the conversation to a ticket
Ressourceplaning
Ressourceplaning
Plan your ressources in a kalender.
Timeentries
Timeentries
Record your servicetimes to a ticket.
Knowledge Base
Knowledge Base
Transfer your know how to other employees or direct to your customers.
Simplifying IT Support with Tamarello's Helpdesk Solutioin
Tamarello is a simple and effective helpdesk solution designed for software manufacturers and IT consultants. Reliable and timely service is essential for any successful IT company, and Tamarello offers an intuitive and efficient platform to help manage and prioritize service requests.
With Tamarello, you can easily assign technicians to tickets, document support requests, and streamline your workflows. This provides you with greater transparency into your support operations, allowing you to respond more quickly to customer needs and improve overall customer satisfaction.
The platform includes pre-defined work packages that help to optimize the handling of support requests, enabling technicians to work more efficiently and reduce resolution times. This means that you can spend less time on administrative tasks and more time on providing excellent customer service.
Tamarello also offers a customer portal that simplifies ticket creation and management for your customers. This helps to reduce your workload and provide a more efficient experience for your customers, leading to greater satisfaction and loyalty.
Overall, Tamarello is an easy-to-use and effective ticket management system that enables you to provide reliable and timely support to your customers. With its intuitive platform, optimized workflows, and customer portal, Tamarello can help you improve your support operations and build a positive reputation in the industry.